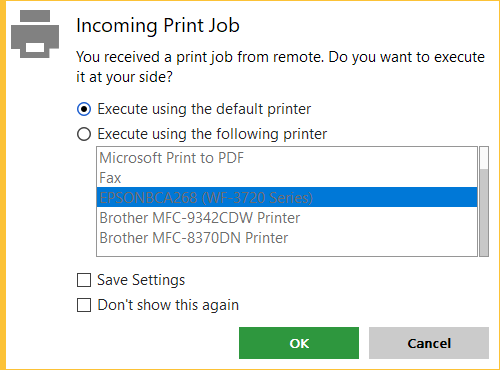 The Remote Print feature allows to print from a remote device equally to printing on a local printer.
AnyDesk uses a virtual printer (the AnyDesk Printer) on the remote device to send print-jobs to the local printer.
Remote print is available for Windows 7, 8.1 and 10 and is introduced with version 5.
Both sides need to support the feature.
Print from any application using the virtual AnyDesk Printer.
The driver only needs to be installed on the remote device.
Install Driver
Install the AnyDesk Printer on the remote side. (Automatically installs with AnyDesk.)

On Windows 7: Install driver manually in the Printer Settings after Installation of AnyDesk.
Note: You need Administrator privileges to install the driver.
Incoming print-job dialoge
When opening the print dialogue of an application on the remote computer, choose the AnyDesk Printer to print it.
AnyDesk then creates the Incoming print-job dialogue on the local device, to choose an available printer.
Choose whether to apply given setting automatically on subsequent print-jobs.
This option allows the same workflow as when working locally.
Print Settings
There are three modes to handle incoming print jobs:
Dismiss – (Automatically decline incoming print jobs)
Print using Windows default printer.
Print using the specified printer.